SOFT CHEESE 4-CHEESE FLAVOR
Bring a new taste to your dishes in a practical way with Soft Cheese 4 Cheese Flavor Catupiry®. Versatile, has a balanced and smooth flavor of cheeses, can be used in many preparations, giving a special touch. It is ideal to be baked, au gratin and to be cooked, has an even more incredible texture when going to the oven. Try to innovate in your baked potatoes, pies, snacks, pasta, risotto, pizza and many other dishes.
Packaging:
Blister: NET WT 35.63 OZ (2.23 LB) (1.010 kg)
Other Information:
Ingredients:
 Milk Cream, Curd (Pre-Skimmed Raw Milk, Sodium Chloride), Four Cheese Preparation Flavored Condiment (Maltodextrin, Parmesan Cheese, Whole Milk Powder, Sodium Chloride, Natural Aroma, Milk Cream in Powder, Yeast Extract, Gorgonzola Condiment, Spice and Smoke Natural Aroma), Sodium Chloride (Salt), Stabilizer Tetrasodium Pyrophosphate (INS 450iii), Acidity Regulator Sodium Bicarbonate (INS 500ii) and Conservative Potassium Sorbate (INS 202).
ALLERGIC: CONTAINS MILK AND CEVADA DERIVATIVES. CONTAINS LACTOSE. CONTAINS GLUTEN.
Conservation
KEEP REFRIGERATED 41°F. USE WITHIN 8 DAYS AFTER OPENING.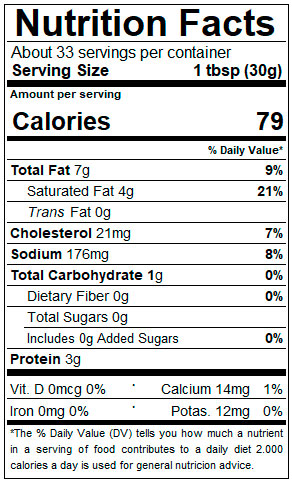 Adicionar aos meus desejos