SPREADABLE CHEESE BLACK OLIVES FLAVOR
Catupiry® combined the creaminess of soft cheese with the magnificent flavor of Black Olives. With a natural and unique flavor, it can be consumed in bread and toast or used in sandwiches and recipes to give that special flavor
Packaging: 
Cup 180g
Other information:
Ingredients:
Heavy Cream, Curd (Skimmed fluid milk in bulk for industrial use and Acidulant Lactic Acid), Black olives paste (Olives paste, Artificial Flavor Identical to Natural, Carmine Natural Color (INS 120)), Chopped Black Olives, Salt (Sodium Chloride), Stabilizers: Sodium polyphosphate, Trisodium phosphate, Potassium tripolyphosphate, Sodium acid pyrophosphate, Tetrapotassium pyrophosphate, Preservative Potassium Sorbate.
CONTAINS: MILK AND SOY.
CONTAINS GLUTEN.
Conservation
KEEP REFRIGERATED 41°F. USE WITHIN 8 DAYS AFTER OPENING.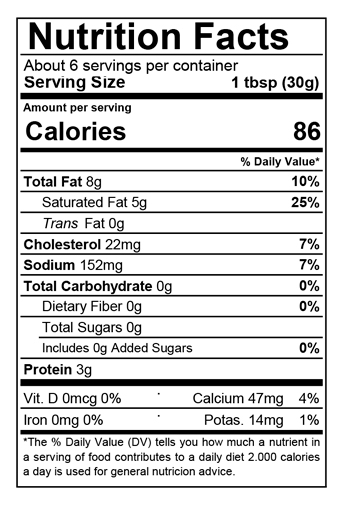 Adicionar aos meus desejos