SOFT CHEESE WITH LEEK
Give a special touch to your dishes with Soft Cheese with Leek Catupiry®. The product is very versatile and has leek litlle pieces that leaves any recipe with a special flavor. It is ideal to be baked, au gratin and to be cooked, has an even more incredible texture when going to the oven.
Packaging:
Sachet: NET WT 8.81 OZ (250 g)
Other information:
Ingredients:
Milk Cream, Curd, (Pre-Skimmed Raw Milk, Sodium Chloride), Leek flakes, sodium chloride (salt), Stabilizing Tetrasodium Pyrophosphate (INS 450iii), Acidity Regulator Sodium Bicarbonate (INS 500ii) and Conservator Potassium Sorbate (INS 202).
ALLERGIC: CONTAINS MILK CONTAINS LACTOSE. GLUTEN-FREE.
Conservation
KEEP REFRIGERATED 41°F. USE WITHIN 8 DAYS AFTER OPENING.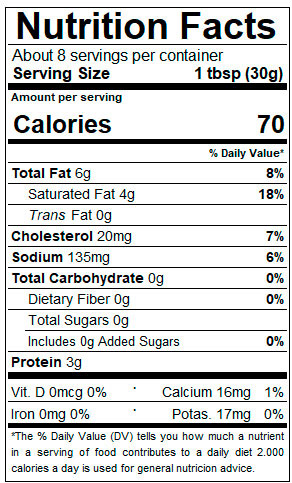 Adicionar aos meus desejos